The Manifest Spotlights Tailored Technology Services as Los Angeles' Top Reviewed IT Services Provider for 2023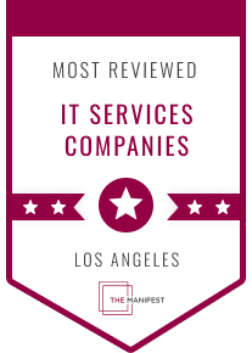 Every year, the demand for reliable IT services continues to grow because companies are embracing digital transformation and innovation. With thousands of service providers vying for your attention, our team at Tailored Technology Services let our work do the talking for us. Since our inception, we've provided customized and enjoyable services to our beloved clients from all walks of life.
Today, we're proudly celebrating an honor that represents how much our clients have confidence in us. According to the latest The Manifest Company Awards, Tailored Technology Services Inc. is among the top recommended and reviewed IT services providers in Los Angeles, California this 2023!
Receiving this distinction in back-to-back years goes to show how consistent and committed we are to our services. Just like the feeling we felt the first time, we can't help but be overwhelmed by the tremendous support shown by our clients and partners.
To give this feat more context, The Manifest is a business news and how-to resource designed to guide browsers through the IT, marketing, and business services spaces. The site's annual industry recognitions feature the leading service providers that forged strong connections with their respective clientele. For every category, 15 companies are chosen and awarded based on the number of testimonials they've received over the preceding twelve months.
It goes without saying that, Tailored Technology Services Inc. wouldn't be celebrating this honor right now without the incredible trust and confidence of our clients. Thank you so much for giving us the opportunity to showcase our craft and serve you as your go-to IT partner. We look forward to continuing to innovate and grow with you all!
Here at Tailored Technology Services, we believe that IT services can be enjoyable. Don't hesitate to connect with us so we can talk more about how we can work together!